Events Calendar
La Galerie de Culture : Schedule of cultural events in Reims

---
The Joan of Arc Festival!!!
From 2 to 3 June 2018
Every year in early June, Joan of Arc Festival (Fêtes Johanniques) in Reims is a weekend-long event commemorating the coronation of Charles vll in Reims Cathedrale on 17 Julay 1429.To mark the occasion, the city relives the Middle Ages.
Light show in Reims !!!
Launched in 2011, the Rêve de couleurs lights show in Reims is a major popular success.The first edition was created to celebrate the 800th anniversary of the laying of the Cathedral's foundation stone.
The show lasts 25 min and happens at night.
May 30th and 31th at 22pm
June every Wednesday, Thursaday, Friday,Saturday,Sunday at 23pm
Julay every Tuesday,Wednesday, Thursday, Friday,Saturday,Sunday at 23pm
August to Tuesday to Sunday
from 1st to 14 August at 22h30
ffrom 15th to 31 August at 22 pm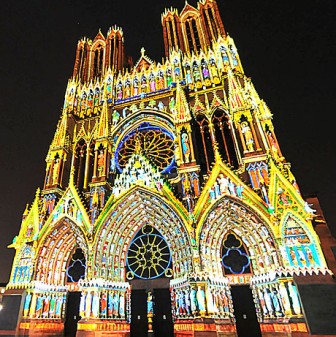 ---
---
For details, reservations or any other question, please call us (+00 33 3 26 47 28 46) or use the Online Booking page.